Choosing the Right Fencing Products for Animal Containment, Equine or Livestock.
The type of fence that you will need depends on the livestock, crops, and other vegetation that border the fence. Horses will run through a fence or get tangled in it causing harm to themselves. Cattle will crawl over fences, sheep try to crawl under. Hogs, of course, try to root their way under a fence. Any livestock will put a fence to its greatest test when there is a lush green crop on the opposite side.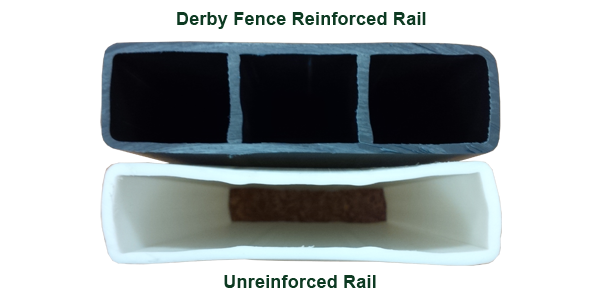 Derby Fence is the Right Choice in Safe, Durable, and Virtually Maintenance Free horse fence product for Livestock & Horses in all locations and climates. From the farm or ranch to suburban developments.
Derby Fence is manufactured in typical lumber sizes. Because Derby fence is hollow it is lighter and easier to work with than wood fencing. An HDPE rail weighs about as much as a wooden rail of the same dimensions, and a post weighs about one quarter as much as solid wood of the same dimensions. Thick side walls and internal ribs add strength and firmness to HDPE fence products and eliminate the need for, and cost of, internal reinforcement with other materials. Our internal ribs differentiate us from our competition.