ABOUT DERBY FENCE COMPANY
Derby Fence Co. was founded in 2006 as a retail line of high end fencing sector of Lakeland Plastics Inc., with a plant size of 32,000 sq. ft. and 12 production lines, Lakeland Plastics has an established customer base for its wide range of custom extruded products, as well as providing Derby Fence Co. with its full line of virtually unbreakable ranch fencing.
100% AMERICAN MADE HDPE FENCING
All Derby Fencing is 100% American made by Lakeland Plastics in its Illinois facility utilizing state of the art extrusion calibrating equipment and CNC machining centers.
Derby Fencing reclaims 100% of its scrap production, thereby contributing nothing to the areas landfills, and recycles all its cooling water striving to be as Eco friendly as possible.
Your animals will be safe inside Derby's HDPE horse fence products and you will be choosing an environmentally friendly fencing option.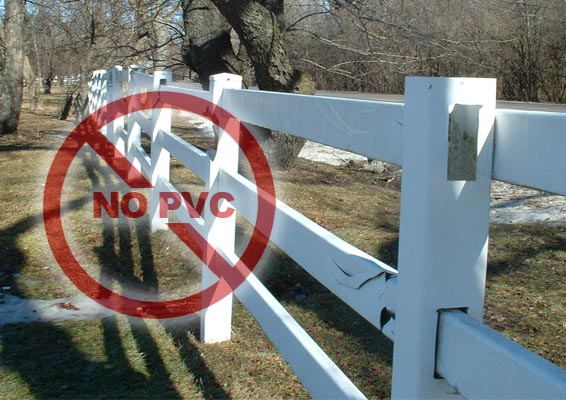 WHY ARE PVC & VINYL FENCES BAD OPTIONS?
This picture shows what can happen to fences made from PVC or Vinyl. PVC-Vinyl fencing becomes brittle in cold weather, however, it doesn't fair very well in warm temperatures upon impact either.
PVC-Vinyl fencing was designed and engineered to be used as "Decorative Fencing" and never intended to be used as containment for livestock. It just doesn't make any sense to contain animals with a product that could cause a serious or even fatal injury.
Derby Fence was designed and engineered to be used in animal containment, equine or livestock. Derby Fence is manufactured from High Density Polyethylene (HDPE horse fence) and will not become brittle even at 60 degrees below zero and will absorb the impact of a full extended leg kick from any breed of Equine or Bovine.
WHY CHOOSE A DERBY HDPE FENCE?
Derby's unique thick-walled construction makes our HDPE Equine Ranch Fences the sturdiest and safest of all polymer fences available on the market. Thick side walls and internal ribs add strength and firmness to our HDPE horse fence products and eliminate the need for, and cost of, internal reinforcement with other materials. Our internal ribs differentiate us from our competition.
Another unique feature of a Derby Fence is our special galvanized "rail button locking system" which securely contains animals while remaining easily removable by the owner to allow access for tractors and other equipment.
A Derby Fence is the Ultimate Fencing Solution for any Climate