Derby Fence is the nation's leading provider of High Density Polyethylene (HDPE) Fencing products for animal containment, equine and livestock.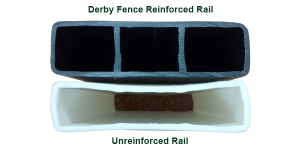 Derby's unique thick-walled construction makes our HDPE fencing the sturdiest and safest of all polymer fences available on the market. Thick side walls and internal ribs add strength and firmness to our HDPE horse, farm, livestock, cattle, ranch and pasture fence products and eliminate the need for, and cost of, internal reinforcement with other materials.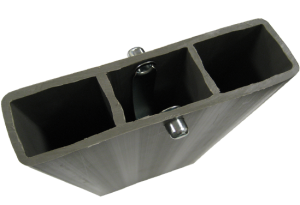 Our internal ribs differentiate us from our competition and and will not become brittle even at 60 degrees below zero and will absorb the impact of a full extended leg kick from any breed of Equine or Bovine.
Another unique feature of a Derby Fence is our special galvanized "rail button locking system" which securely contains animals while remaining easily removable by the owner to allow access for tractors and other equipment.
Derby Fence is the right choice when looking for a fence that is safe for the animals, people and the environment.