Horse Fencing with Outstanding Beauty & Performance
Derby Fences are strong, durable, aesthetically beautiful, easy to clean, stain resistant and virtually maintenance free for years. The rails and posts are manufactured out of high-density polyethylene (HDPE) materials that will not shatter or split in extremely cold weather. Derby Fencing withstands temperatures as low as -60 degrees Fahrenheit, contains no arsenic or chlorides and will not contaminate water or soil. HDPE is also impermeable to acids found in animal wastes.
Durable Horse Fencing with your Animal's Safety in Mind
Our horse fencing is safe for containing all types of livestock and pets. Derby Fence will not splinter or cause injuries. Derby Fence is one of the toughest plastic horse fencing solutions on the market. The posts and rails have twice the wall thickness of most PVC fencing.
Our posts weigh approximately twice that of a standard PVC Post. Derby Fence is made to withstand years of abuse from the elements and your horses.

DERBY FENCE SOLUTION FOR HORSES

Horse Fencing with Outstanding Beauty & Unrivaled Performance
Get A Quote
We are very pleased with your product. We did 2500 linear feet in 5 days. If you ever need any references please do not hesitate to call.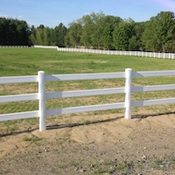 Dan - Castleton, VT
I would highly recommend this company & product to anyone. It's not only durable & safe for our horses, it's beauty also adds to the value of our property!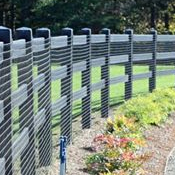 Cindy S. - Mukwonago, WI